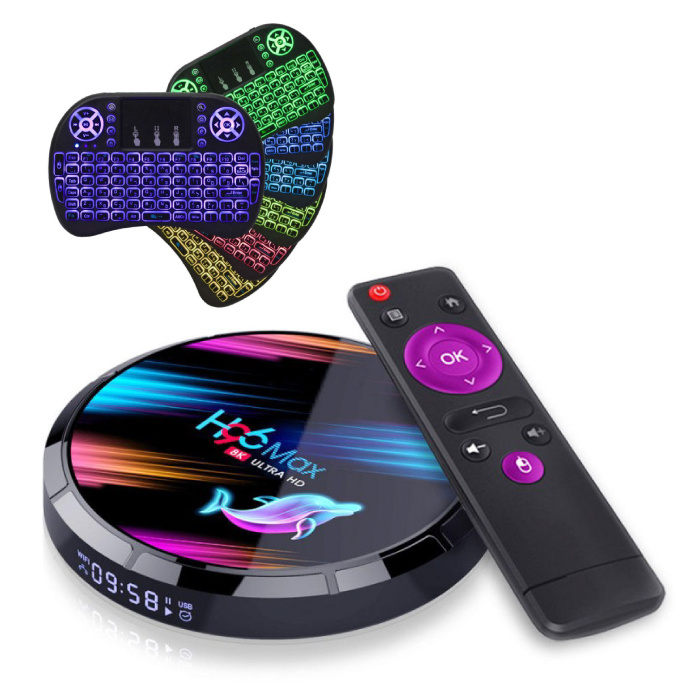 H96 Max 8K TV Box Media Player Android Kodi - 4GB RAM - 128GB Storage + Wireless Keyboard
€121,46
€134,95
H96 Max 8K TV Box Media Player Android Kodi - 4GB RAM - 128GB Storage + Wireless Keyboard
Processed and shipped within 24 hours
30 days

cancellation right

3 years

carry-in factory warranty

Estimated delivery time: 1-2 weeks

The estimated delivery time includes the delivery time of 24 hours and also depends on the payment confirmation and the selected shipping service. Delivery times may vary, especially during busy periods, there may be delays in courier services.

ATTENTION: Due to unexpected circumstances, it can always happen that your order is on its way longer than estimated. More information

For orders with a longer delivery time of 1-2 weeks, there is always the possibility that the ordered product still has to be imported into the country of destination. The customer is always personally responsible for the import of delivered goods and liable for any costs of import duties, import costs and VAT when buying products from Stuff Enough that are indicated with a higher delivery time of 1-2 weeks on the product page.

Pay securely with

Buy 2 for €119,03 each and save 2%
Buy 5 for €115,39 each and save 5%
Buy 10 for €109,31 each and save 10%
Information
Would you like to expand the functions of your television and thus create countless possibilities? Would you like to make it possible to watch all films, series and sports for free with subtitles? Then it's time to buy a TV box!

With the TV box you have a connection for every device. Using the Android operating system, you can download numerous applications from the Google Playstore. This means that you can watch movies, series and sports for free, but it is also possible to play games.

The powerful and compact TV box is perfect for people without a dish. Enjoy all your favorite channels and media from your home network. The TV box connected to the internet plays digital TV channels, streaming video and video on demand, among other things.

We pre-install the Android operating system for you, giving you the option to choose from countless add-ons, including Netflix and Kodi, which make it possible to watch movies, series, sports and programs.

In addition to the films, series and sports, you can also simply surf the internet. For example, it is possible to download Facebook, Twitter, Skype, Instagram etc. Moreover, the TV box supports 3D games! This TV Box makes your television so much more extensive than a Smart TV!
Specifications
Fashion model:
H96 Max 8K
Operating System (OS):
Android 9.0
Bluetooth version:
4.0
RAM:
4GB DDR3
Storage area:
128GB EMMC, possibility of memory card
CPU:
Amlogic S905X3 64-bit quad core ARM®Cortex ™ A55
GPU:
G31 ™ MP2
Support:
HDMI 2.1, Up to 8K @ 60 FPS
TF / SD card (up to 128GB)
1x USB 2.0 Input
1x USB 3.0 Input
1x AV port
1x SPDIF port
1x Network port
1x Charging port
WiFi:

Wi-Fi 802.11 b / g / n Dual band Wi-Fi, 2.4G and 5G

Google Voice Assistant:
Yes
Digital display:
Yes
Package Contains:
1x H96 Max 8K TV box
1x Remote control
1x European charger
1x HDMI cable
1x English manual
1x Wireless keyboard
ProductID:
216937538
Payment methods
Vlot bestelproces. Snel bezorgd. Werkte direct en eenvoudige bediening