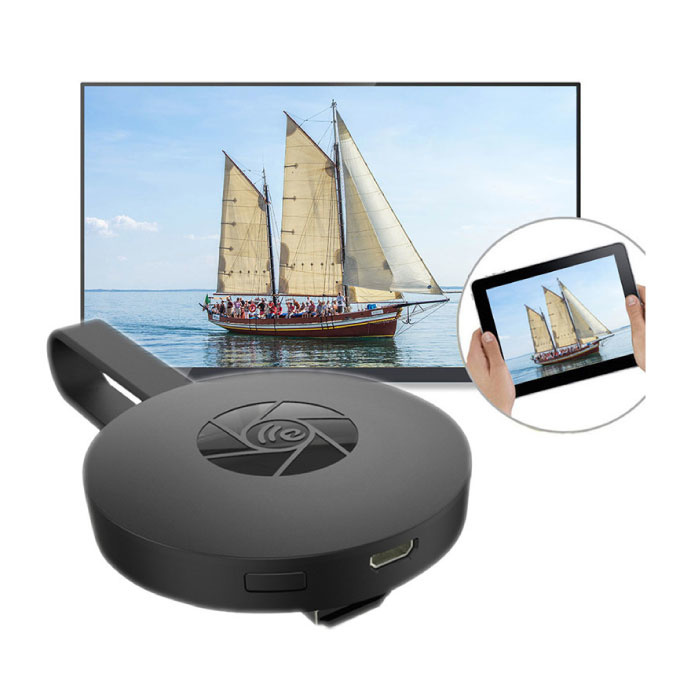 MiraScreen G2 Miracast TV Stick 1080p HDMI WiFi Receiver Cast Screen Receiver iPhone & Android
€27,95
€34,95
MiraScreen G2 Miracast TV Stick 1080p HDMI WiFi Receiver Cast Screen Receiver iPhone & Android
Processed and shipped within 24 hours

Estimated delivery time: 1-2 weeks

The estimated delivery time includes the delivery time of 24 hours and also depends on the payment confirmation and the selected shipping service. Delivery times may vary, especially during busy periods, there may be delays in courier services.

ATTENTION: Due to the corona crisis, it may happen that your order is on the road for longer than estimated. More information

For orders with a longer delivery time of 1-2 weeks, there is always the possibility that the ordered product still has to be imported into the country of destination. The customer is always personally responsible for the import of delivered goods and liable for any costs of import duties, import costs and VAT when buying products from Stuff Enough that are indicated with a higher delivery time of 1-2 weeks on the product page.

Always 3 years

carry-in factory warranty

30 days cancellation right
Pay quickly and securely with

Buy 2 for €27,39 each and save 2%
Buy 5 for €26,55 each and save 5%
Buy 10 for €25,16 each and save 10%
Information
With the MiraScreen HDMI TV-Stick, you can project 1080p images and videos from your smartphone, laptop or tablet onto your TV screen. The stick is compact and easy to install, so you can use it anywhere.

The installation takes just one minute; you plug the MiraScreen stick into the HDMI input of your TV screen, and the supplied USB cable into the power supply. You then install the free app on your computer, smartphone or tablet and you can immediately stream all files, videos, images or the complete image output to your TV.
Specifications
Fashion model:
MiraScreen G2
Type:
HDMI Receiver WiFi Stick
Connectors:
HDMI
USB
Resolution:
1080p Full HD
Processor:
AM8252B 600MHz CPU
RAM:
128MB DDR3
Additional functions:
Social Media on TV
Online video services such as Youtube and Netflix
Stream music
View and edit photos, videos and Office files
Duplicate screen
Package Contains:

1x MiraScreen G2 TV Stick
1x USB Cable
1x English Manual
ProductID:
209406053
Payment methods
Hassan Amouchi
02 October 2020
is zeker zijn geld waard ik raden zeker aan
de goedkopere google chromecast en doet exact hetzelfde.
goed product maar waarom liegen over de leveringstermijn?? ahja staat aangeduid das waar maar er staat ook "24 uur verzending", zeggen ze mooi ja meneer wij verzenden uw bestelling binnen de 24 uur maar ik dacht wel dat ik het de volgende dag al ging binnen krijgen.. de effectieve leveringstermijn moet duidelijker vermeldt worden vind ik
Besteld begin april en nog steeds niet ontvangen! Telkens dezelfde info dat ik krijg op mijn vraag waar mijl betaald product blijft! Problemen met verzending. Nog 10 werkdagen, nog 18 werkdagen wachten.
We zijn nu 3 maanden verder en mijn geduld is op!
Er wordt niets gedaan!
eerlijke prijs en perfect functioneel om netflix en youtube mee te casten om de TV
Welke gratis APP is de beste? Er zijn er verschillende.. Dank
had het pas na 2 weken binnen maar was het wachten zeker waard
Heb deze 5/4/2020 besteld en heb tot nu toe nog altijd niets aan gehad het is nu 12/4/2020 deze servis is dus niets heb whatts app gedtuurd en bericht maar antwoorden nie
emiel janssens
20 January 2020
super! wel levertijd iets langer dan verwacht
Ik heb er meteen 2 besteld en ze doen het allebei geweldig!
simpelweg een topproduct het doet exact wat we ervan verwacht hadden
veel betere deal dan die van google