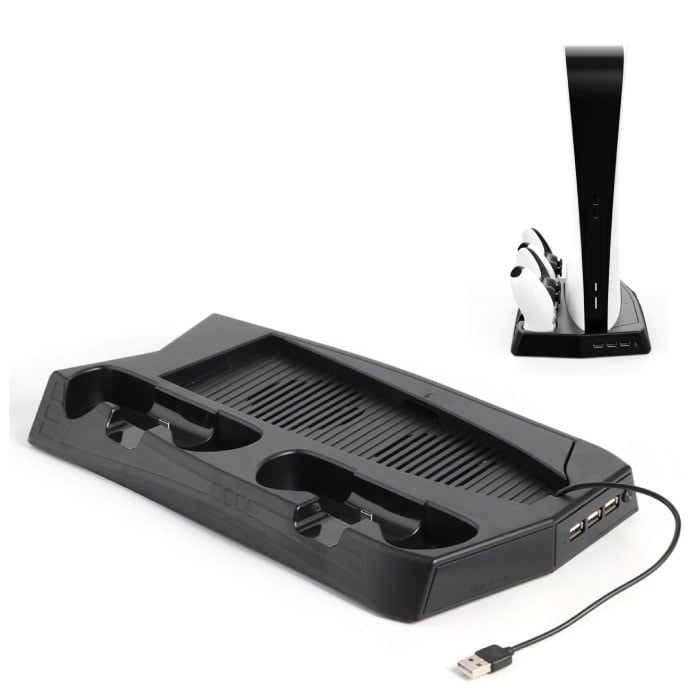 Multifunctional Dual Fan Cooling Stand Mount and Charging Station for PlayStation 5 - PS5 - Cooling Standard Cooler Black
€38,21
€59,95
Multifunctional Dual Fan Cooling Stand Mount and Charging Station for PlayStation 5 - PS5 - Cooling Standard Cooler Black
Processed and shipped within 24 hours
30 days

cancellation right

3 years

carry-in factory warranty

Estimated delivery time: 1-2 weeks

The estimated delivery time includes the delivery time of 24 hours and also depends on the payment confirmation and the selected shipping service. Delivery times may vary, especially during busy periods, there may be delays in courier services.

ATTENTION: Due to unexpected circumstances, it can always happen that your order is on its way longer than estimated. More information

For orders with a longer delivery time of 1-2 weeks, there is always the possibility that the ordered product still has to be imported into the country of destination. The customer is always personally responsible for the import of delivered goods and liable for any costs of import duties, import costs and VAT when buying products from Stuff Enough that are indicated with a higher delivery time of 1-2 weeks on the product page.

Pay securely with

Buy 2 for €34,39 each and save 10%
Buy 5 for €33,62 each and save 12%
Buy 10 for €32,48 each and save 15%
Information
With this cooling mode you can cool the PlayStation 5 when the console is overheated. Thanks to the design, the PlayStation 5 is raised with handy ventilation holes and two fans at the bottom, so that the bottom of the PlayStation is completely ventilated.
This cooling stand is compatible with the standard version of the PlayStation 5 (Disc Edition), and the digital version (Digital Edition). The stand is made of high-quality ABS material for long-term use.
With the built-in charging station you can charge two PlayStation 5 controllers simultaneously or separately. The controllers can be perfectly stored in the charging station, so you can charge them for the next session. The charging time for two PlayStation 5 controllers at the same time is a total of 4 hours, after which both batteries are completely full again.
In addition to the cooling function and the charging station, you can also enjoy three USB ports on the side of the stand to charge any other devices.
Compatible with PlayStation 5 & Playstation 5 Digital Edition
Two powerful fans for extra cooling
Charging station for controllers
3x USB Ports
| | |
| --- | --- |
| |   |
| Brand: | Stuff Certified |
| Fashion model: | Multifunctional Cooling Stand and Charging Station for PlayStation 5 |
| Color: | Black |
| Suitable for: | PlayStation 5 Disc Edition / Digital Edition |
| Package Contains: | 1x Cooling Stand / Charging station |
ProductID:
231577619
Payment methods
Rudi Willems
11 September 2023
Heb de digitale editie en het pakket kwam met een tussenstuk om de pasvorm aan te passen naar de dunnere vorm voor mijn model. Heel handig en hoge kwaliteit
uitstekelijk produkt, een duidelijke musthave voor de echte gamer,
als je graag multiplayed is dit accessoire ondenkbaar..
als je hier besteld denk dan wel dat je het pas volgende week gaat hebben
super deal voor alle ps5 veteranen.
Dit pakket is alles wat de hardcore gamer nodig heeft!!! ik kan niet meer dan aanbevelen.
enkel de wachttijd na bestelling is beetje naar.. verwacht het na 2 weken en dan ben je goed
Joeri Vanhoven
27 June 2023
De kaskes zijn rap opgeladen en mijn playstation heeft nooit heating problemen bij te lang gebruik
Heb het gekocht aan super lage prijs en werd binnen de week nog geleverd.
Guiseppe Amado
27 June 2023
heel goed! kan alleen maar zeggen dat ik erg blij ben dit product te hebben aangeschaft. werkt ideaal. Ik hou mijn ps5 vaak erg lang aan en je kan voelen dat hij nooit warm wordt door deze cooler. Denk zelf dat de prestaties hierdoor beter zijn dan zonder
sluit mooi aan de randen en afwerking ziet er duurzaam uit