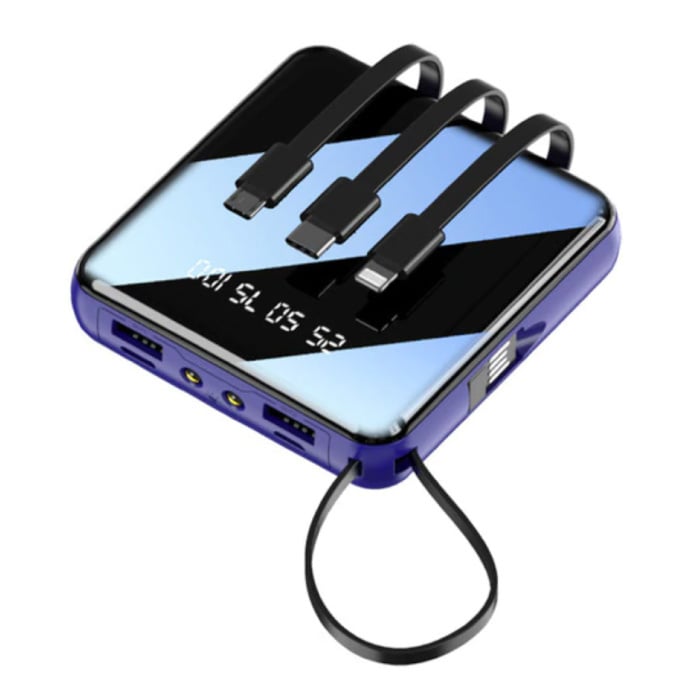 Universal 10,000mAh Mini Power Bank - 4 Types Charging Cable - 2x USB LED Display Emergency Battery Battery Charger Charger B €34,95
Universal 10,000mAh Mini Power Bank - 4 Types Charging Cable - 2x USB LED Display Emergency Battery Battery Charger Charger Blue
Processed and shipped within 24 hours

Estimated delivery time: 1-2 weeks

The estimated delivery time includes the delivery time of 24 hours and also depends on the payment confirmation and the selected shipping service. Delivery times may vary, especially during busy periods, there may be delays in courier services.

ATTENTION: Due to the corona crisis, it may happen that your order is on the road for longer than estimated. More information

For orders with a longer delivery time of 1-2 weeks, there is always the possibility that the ordered product still has to be imported into the country of destination. The customer is always personally responsible for the import of delivered goods and liable for any costs of import duties, import costs and VAT when buying products from Stuff Enough that are indicated with a higher delivery time of 1-2 weeks on the product page.

Always 3 years

carry-in factory warranty

30 days cancellation right
Pay quickly and securely with

Buy 2 for €34,25 each and save 2%
Buy 5 for €33,55 each and save 4%
Buy 10 for €32,85 each and save 6%
Information
Always a flat battery by the end of the day? Are you often on the road, or do you simply not feel like hanging your smartphone on the wall every time? With this beautiful power bank you always have a few recharges of your phone in your pocket !
Thanks to its universal design, the power bank is easily compatible with any of your devices, so there is a charging cable for every type of connection : 8-pin for iPhone Lightning, USB-C, Micro-USB. You can charge the power bank itself using the built-in USB charging cable.
The power bank also has two USB output ports where you can connect your own cables. On the front of the emergency battery is an LED screen where the current charge of the battery is displayed. There are also two LED lights for extra lighting when needed.
Charging cable for any type of input
Two USB output ports
LED screen
Built-in 2x LED flashlight
Specifications
Type:
Power bank/Emergency battery
Colour:
Blue
Battery type:
lithium ion
Capacity:
10,000 mAh
Life Cycle:
900 recharges
Entrance:
USB 5V/1A
Exit:
2x USB 5V/2.1A
1x 8-pin Charging Cable for iPhone Lightning 5V/2.1A
1x Micro USB Charging Cable 5V/2.1A
1x USB-C Charging Cable 5V/2.1A
On off switch:
Yes
Battery status display:
Yes, LED display
Built-in flashlight:
Yes, double flashlight
Shockproof:
Yes
Splash-proof:
Yes
Dustproof
Yes
Compatible with:
Most smartphones (iPhone, Samsung, Windows Phone, BlackBerry OS, HTC, Sony,...)
Package contains:
1x Mini Powerbank 10,000mAh emergency battery
1x Charging Cable
1x Manual

With one full battery of this power bank you can fully charge your smartphone up to five times.
ProductID:
236504960
Payment methods
very good and reliable powerbank many thanks all 3 units are working just fine