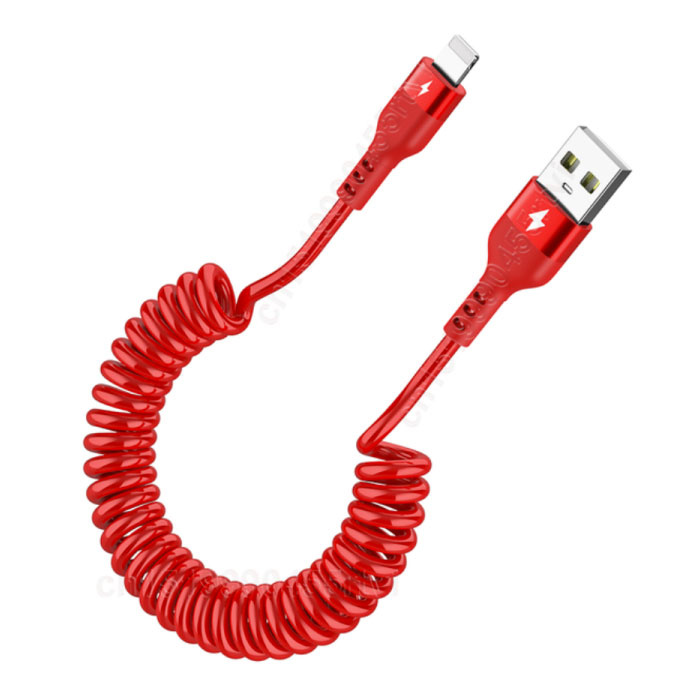 Spiral Charging Cable for iPhone Lightning - 1.5 meters - 2.4A Charger Data Cable Red
€14,95
€24,95
Spiral Charging Cable for iPhone Lightning - 1.5 meters - 2.4A Charger Data Cable Red
Processed and shipped within 24 hours
30 days

cancellation right

3 years

carry-in factory warranty

Estimated delivery time: 1-2 weeks

The estimated delivery time includes the delivery time of 24 hours and also depends on the payment confirmation and the selected shipping service. Delivery times may vary, especially during busy periods, there may be delays in courier services.

ATTENTION: Due to unexpected circumstances, it can always happen that your order is on its way longer than estimated. More information

For orders with a longer delivery time of 1-2 weeks, there is always the possibility that the ordered product still has to be imported into the country of destination. The customer is always personally responsible for the import of delivered goods and liable for any costs of import duties, import costs and VAT when buying products from Stuff Enough that are indicated with a higher delivery time of 1-2 weeks on the product page.

Pay securely with

Buy 2 for €13,46 each and save 10%
Buy 5 for €11,96 each and save 20%
Buy 10 for €10,47 each and save 30%
Information
Looking for a reliable charging cable for your iPhone? Search no further! Our Spiral Charging Cable for iPhone Lightning is the perfect choice for your charging and data transfer needs. With an impressive range of features and a stylish design, this cable is a must-have accessory for anyone with an iPhone.
Lightning Fast Charging with QC4.0 Support This cable is designed to charge your iPhone super fast. With a support of 2.4A, this cable can provide speed comparable to the official Apple cables. Plus, if you're using a compatible fast charger, this cable also supports Quick Charge 4.0, getting your iPhone ready to go again in no time.
Ultra-fast Data Transfer In addition to fast charging, this cable also supports ultra-fast data transfer at a speed of up to 480 Mbps. Whether you want to transfer photos, videos or other files, this cable does it all quickly and reliably.
Flexible Spiral Design The Spiral Charging Cable is not just an ordinary cable. It has a unique and practical spiral design that can stretch up to 1.5 meters. This means you can adjust the length of the cable to your needs without having to worry about excess cables getting tangled. Perfect for on the road, at the office, or at home!
Strong and Durable Construction We understand that cables are often bent and pulled. That is why we have provided the Spiral Charging Cable with a reinforced joint. This joint is designed to withstand strong bends and twists, extending the life of the cable and allowing you to continue charging and syncing without worry.
Choose reliability, speed and style with the Spiral Charging Cable for iPhone Lightning. This black cable will not only meet your needs but will also add a touch of elegance to your daily routine. Order now and experience it for yourself!
| | |
| --- | --- |
| Length: | 150 cm |
| Colour: | Red |
| Type: | iPhone Lightning |
| Maximum output: | 2.4A |
| Package includes: | 1x Spiral Charging Cable for iPhone Lightning |
ProductID:
289034663
Payment methods
Reviews
No reviews found
Read or write a review