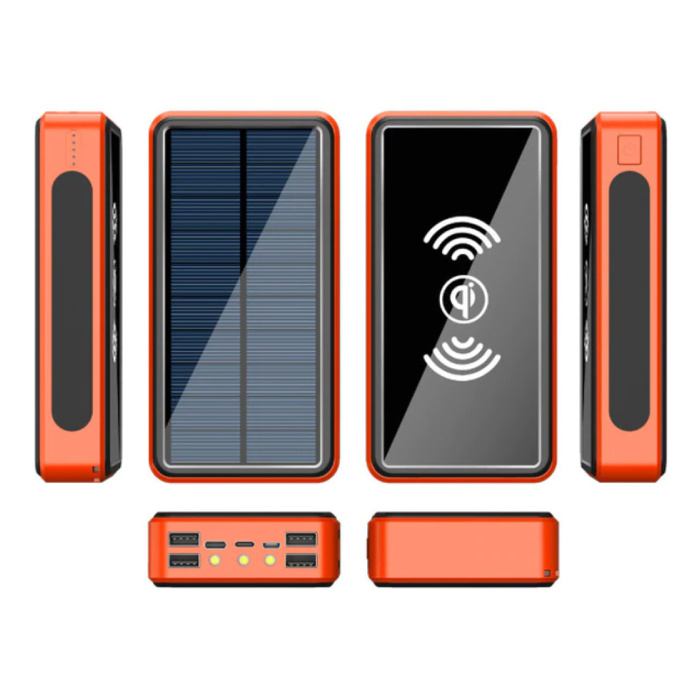 Qi Wireless Solar Power Bank with 4 Ports 80,000mAh - Built-in Flashlight - External Emergency Battery Charger Charger Orange
€49,95
€89,95
Qi Wireless Solar Power Bank with 4 Ports 80,000mAh - Built-in Flashlight - External Emergency Battery Charger Charger Orange
Processed and shipped within 24 hours

Estimated delivery time: 1-2 weeks

The estimated delivery time includes the delivery time of 24 hours and also depends on the payment confirmation and the selected shipping service. Delivery times may vary, especially during busy periods, there may be delays in courier services.

ATTENTION: Due to the corona crisis, it may happen that your order is on the road for longer than estimated. More information

For orders with a longer delivery time of 1-2 weeks, there is always the possibility that the ordered product still has to be imported into the country of destination. The customer is always personally responsible for the import of delivered goods and liable for any costs of import duties, import costs and VAT when buying products from Stuff Enough that are indicated with a higher delivery time of 1-2 weeks on the product page.

Always 3 years

carry-in factory warranty

30 days cancellation right
Pay afterwards with AfterPay

Buy 2 for €48,95 each and save 2%
Buy 5 for €47,95 each and save 4%
Buy 10 for €46,95 each and save 6%
Information
A handy portable charger that can be charged by solar energy. Perfect for traveling or camping! With the wireless power bank you prevent the battery of your smartphone from going empty and you are no longer reachable mid-day.
The solar bank has a wireless charging function, you simply place the phone on the wireless power bank and the phone immediately starts charging! Thanks to the 80,000mAh battery capacity, the power bank lasts a very long time, you always have about ten full reloads of your iPhone or smartphone in your pocket.
It is possible to charge four devices at the same time thanks to the four output ports with 2.1A fast charging. Charging the power bank itself is also very easy thanks to the three different input ports: Micro-USB, USB-C and even Lightning for iPhone cables. This way you can use any cable you still have!
The power bank has a built-in flashlight with three light modes; low, glare and SOS in morse code for emergencies.
Qi wireless charging
4 USB output ports
Micro-USB, USB-C and Apple Lightning charging ports
80,000mAh capacity
Specifications
Type:
Power bank / Emergency battery
Color:
Orange
Battery type:
Lithium ion
Capacity:
80,000 mAh
Lifecycle:
1200 charges
Entrance:
- Micro USB 5V / 2.1A
- USB-C 5V / 2.1A
- Apple Lightning 5V / 2.1A
Exit:
4x USB 5V / 2.1A
Battery status display:
Yes
Built-in flashlight:
Yes, 3 light modes; low, glare and SOS
Shockproof:
Yes
Splash resistant:
Yes
Dustproof
Yes
Weight:
420 grams
Dimensions:

150 * 75 * 11 mm

Package Contains:
1x Qi Wireless Solar Power Bank with 4 ports 80,000mAh

With one full battery of this power bank you can fully charge your smartphone up to ten times.
Payment methods
Veel artikelen en hun administratie is ook top.
vorige week ontvangen en tot nu heel tevreden van
Denk dat dit een keeper is :)
denk eerder 60000-70000mah maar voor de prijs ben ik zeer tevreden en zeker geen spijt van mijn aankoop hier als je vragen hebt wordt je snel geholpen