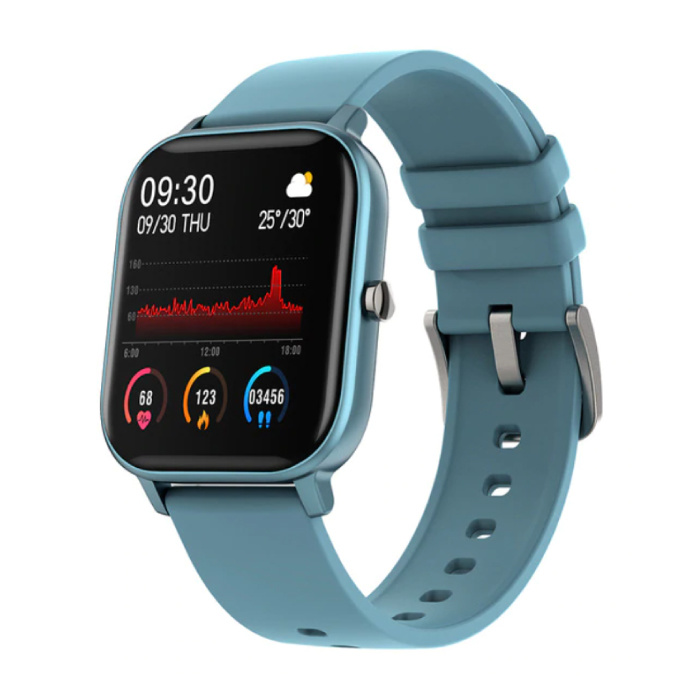 P8 Smartwatch Smartband Smartphone Fitness Sport Activity Tracker Watch OLED iOS iPhone Android Silicone Strap Blue
€44,95
€64,95
P8 Smartwatch Smartband Smartphone Fitness Sport Activity Tracker Watch OLED iOS iPhone Android Silicone Strap Blue
Processed and shipped within 24 hours

Estimated delivery time: 1-2 weeks

The estimated delivery time includes the delivery time of 24 hours and also depends on the payment confirmation and the selected shipping service. Delivery times may vary, especially during busy periods, there may be delays in courier services.

ATTENTION: Due to the corona crisis, it may happen that your order is on the road for longer than estimated. More information

For orders with a longer delivery time of 1-2 weeks, there is always the possibility that the ordered product still has to be imported into the country of destination. The customer is always personally responsible for the import of delivered goods and liable for any costs of import duties, import costs and VAT when buying products from Stuff Enough that are indicated with a higher delivery time of 1-2 weeks on the product page.

Always 3 years

carry-in factory warranty

30 days cancellation right
Pay quickly and securely with

Buy 2 for €40,46 each and save 10%
Buy 5 for €39,56 each and save 12%
Buy 10 for €38,21 each and save 15%
Information
Want to buy COLMI P8 Smartwatch?
The future is finally here! With this all-in-one wristwatch you can easily access all standard functions of your smartphone and more, without having to take out your smartphone!
You use different counters, meters and trackers for activities, and you can check your notifications and messages from your smartphone. In addition, the COLMI P8 has a built-in speaker and microphone so that you can make calls via the smartwatch.
Download and install the free "COLMI" app, compatible with all bluetooth smartphones such as iPhone, Samsung, LG, Huawei, etc. Thanks to the heart monitor, blood pressure meter, oxygen meter and the various sport modes, the watch is perfect for an active lifestyle.

The screen of the smartwatch has an HD display. Every detail of this smartwatch has been carefully worked out so that the design comes into its own. In addition, the smartwatch is easy and quick to operate.

There are also all kinds of useful apps available such as; sleep monitoring, sedentary reminder, alarm, calendar and much more. With the anti-theft mechanism you can let the smartwatch ring, vibrate or track it via your smartphone.


Specifications
Color:
Blue
Strap:
Silicone
Supported Operating System (OS):
Android 4.4 / iOS 9.0 and above
Processor (CPU):
NRF52832 QFAA
Standard functions:
Calendar
Camera control
Message control
Media controls
Hands-free calling
Storage area:
128MB + 128MB
Network:
Bluetooth 4.0
Screen:
1.4 inch Touch Screen
Resolution:
240 x 240 pixels
Battery capacity:
170mAh
Battery life:
up to 7 days of use
60 days standby
Charged in less than 2 hours
Extra features:

Heart rate monitor
Sphygmomanometer
Blood oxygen meter
Multiple sport modes
Notifications
Stopwatch
Sleep monitoring
Weather forecast
Rangefinder
Alarm
Sedentary reminder
Bluetooth camera
Bluetooth music

Microphone:
Yes
Loudspeaker:
Yes
Camera:
Servicing only
Watertightness:
IPX7
Weight:
135g
Package Contains:
1x Colmi P8 Smartwatch
1x Charging cable
1x Manual
ProductID:
228229128
Payment methods
Deze horloge is een plezier
20 January 2023
heb hier al veel plezier van gehad. deze ""slimme" horloge is een zeer goede aankoop geweest voor mij. draag hem bijna elke dag (als ik niet te laat opsta ;)) en nog geen krasje op na al enkele maanden intens gebruik. gebruik het vooral omdat ik hartproblemen heb en ik hierdoor mijn hartslag en bloeddruk zorgvuldig kan opvolgen wat dit apparaat perfect doet
Sam Declerk
12 April 2022
betrouwbare horloge en goed responsieve touchscreen
supergoedkope en deftige watch met alle functies die je echt nodig hebt
prachtige smarthorloge en gaat al een hele week mee en nog ruim 80% batterij over ik moet eerlijk zeggen heel indrukwekkend en dat terwijl de horloge beschikt over een hartslagmeter en stappenteller die constant draait had het zeker niet verwacht van zo een goedkoper model
professionele webshop
de watch valt zeker in smaak ik heb er vandaag nog één voor mijn man besteld
Kris De Pauw
16 October 2020
Ik gebruik mijn horloge nu al een maand en naar hoge tevredenheid.
De koppeling met mijn Samsung galaxy S9 ging moeiteloos en zonder haperingen ik krijg ook alle meldingen en notificaties bij berichten of oproepen
eduardo gambrill
15 October 2020
beautiful watch with lots of useful apps and functions, definitely a keeper for me ;)