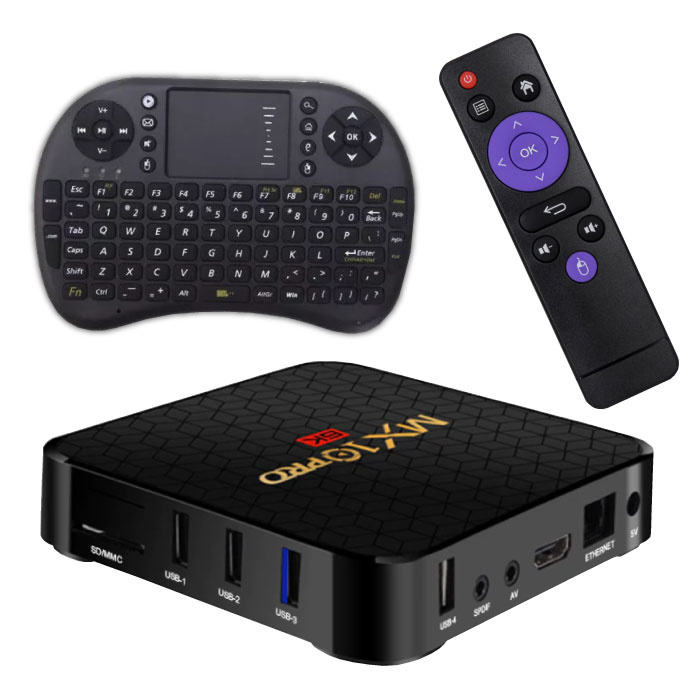 MX10 Pro 6K TV Box Media Player Android 9.0 Kodi - 4GB RAM - 64GB Storage + Wireless Keyboard €93,94
MX10 Pro 6K TV Box Media Player Android 9.0 Kodi - 4GB RAM - 64GB Storage + Wireless Keyboard
Ordered now,

shipped within 24h

Order now, delivered within 1 to 3 weeks!

Always 2 years

carry-in factory warranty

14 days cancellation right
Pay afterwards with AfterPay

Buy 2 for €92,06 each and save 2%
Buy 5 for €89,24 each and save 5%
Buy 10 for €84,55 each and save 10%
Information
Do you want to expand the functions of your television and thus create countless possibilities? Do you want to make it possible to watch all films, series and sports with subtitles for free? Then it's time to buy a TV box!

With the TV box you have a connection for every device. With the help of the Android operating system you can download numerous applications via the Google Playstore. This means that you can watch movies, series and sports for free, but it is also possible to play games.

The powerful and compact TV box is perfect for people without a dish. Enjoy all your favorite channels and media from your own network. The TV box connected to the Internet plays digital TV channels, streaming video and video on demand, among other things.

We already install the Android operating system for you, you have the option to choose from countless add-ons, such as Netflix and Kodi that make it possible to watch movies, series, sports and programs.

In addition to the films, series and sports, you can also simply surf the internet. This makes it possible to download Facebook, Twitter, Skype, Instagram etc. Moreover, the TV box supports 3D games! This TV Box makes your television so much more extensive than a Smart TV!
Specifications
Fashion model
MX10 Pro
Operating system (OS):
Android 9.0
RAM:
4GB
Storage area:
64GB, possibility of memory card
CPU:
Allwinner H6 Quad Core 64-bit Cortex-A53
GPU:
Mali T720
Support:
HDMI 2.0, 4K2k HD Decoding, USB 3.0
WiFi:
Standard 10/100 M RJ-4
Dustproof
Yes
Weight:
144 grams
Package contains:
1x TV box
1x Remote control
1x Charger
1x HDMI cable
1x Manual
1x Wireless Keyboard
Payment methods
Niks vind het maar op lichters ze verkopen troep en wat er staat is er niet nooitmeer voor mijn gr Hans
ik kan er alles mee wat ik verwacht had, dikke 10/10 dus!
Inge Lublink
29 October 2019
Heel goed! Heb precies ontvangen wat ik nodig had.