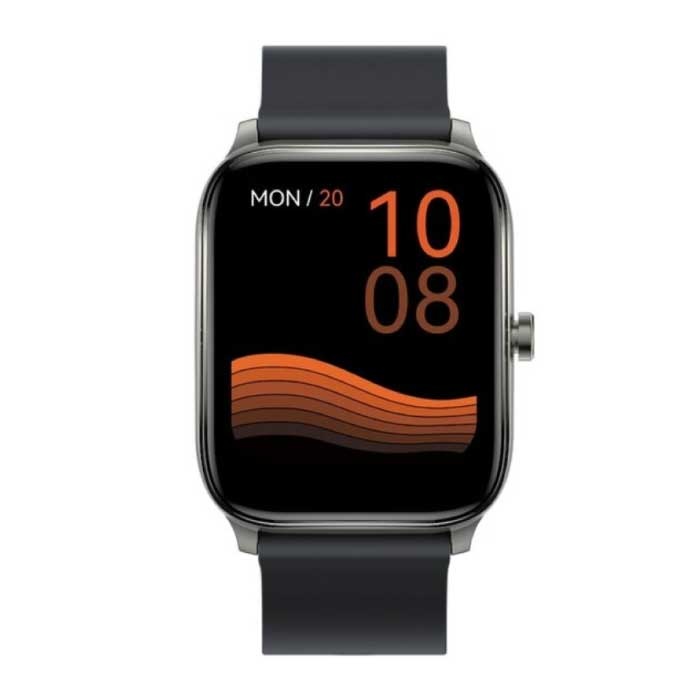 GST Smartwatch with Blood Pressure Monitor and Oxygen Meter - Fitness Sport Activity Tracker Watch iOS Android - Silicone Str
€59,95
€89,95
GST Smartwatch with Blood Pressure Monitor and Oxygen Meter - Fitness Sport Activity Tracker Watch iOS Android - Silicone Strap Black
Processed and shipped within 24 hours
30 days

cancellation right

3 years

carry-in factory warranty

Estimated delivery time: 1-2 weeks

The estimated delivery time includes the delivery time of 24 hours and also depends on the payment confirmation and the selected shipping service. Delivery times may vary, especially during busy periods, there may be delays in courier services.

ATTENTION: Due to unexpected circumstances, it can always happen that your order is on its way longer than estimated. More information

For orders with a longer delivery time of 1-2 weeks, there is always the possibility that the ordered product still has to be imported into the country of destination. The customer is always personally responsible for the import of delivered goods and liable for any costs of import duties, import costs and VAT when buying products from Stuff Enough that are indicated with a higher delivery time of 1-2 weeks on the product page.

Pay securely with

Buy 2 for €53,96 each and save 10%
Buy 5 for €52,76 each and save 12%
Buy 10 for €50,96 each and save 15%
Information
Want to buy a smart watch?
Are you also tired of taking your mobile out of your pocket every time for a new notification? Now you can just watch it from your smartwatch! You simply connect the smartwatch to your smartphone with the watch via Bluetooth. Thanks to the handy reminder you will receive push notifications from multiple sources; SMS, Twitter, Facebook, WeChat and more!
Not only can you see your notifications, but the smart watch also has various functions to make measurements when you are training. Your music can be controlled without any problems via the smartwatch and thanks to the 220mAh battery you can use the watch for up to 20 days in a row without recharging.
The watch goes into standby when not in use and the screen is dimmed slightly to save battery. Is the screen a little too dark? Lift your wrist and it is fully lifted again.
The smartwatch has a beautiful 1.69 inch HD screen with a 240x280 pixel resolution. You can choose from all kinds of different watch faces and menus to adjust the appearance to your own preference, or you can set a photo yourself.
Motivational Support
The smartwatch sees what you are doing and measures how many calories you burn. So you can perfectly manage your sports situation!
There is a heart monitor on the bottom, an oxygen meter, a pedometer and a sleep monitor that can show the quality of your sleep. You can also keep track of how much distance you have traveled and how many calories you have burned.
You can view all statistics and measurements on your smartphone or in detail on the app on your phone. Several sport modes are available including for:
To walk
To climb
Bicycles
Yoga
weight training
gymnastics
Basketball
Football
There are also all kinds of useful apps available such as; weather forecast, sedentary reminder, alarm, calendar and much more. You can remotely control your phone's camera to take beautiful selfies from a distance.
The smartwatch is IP68 waterproof, which means you don't have to worry about sweat or problems when washing your hands.
Specifications
Strap material:
silicone
Housing material:
Stainless steel
Supported Operating System (OS):
Android 6.0 / iOS 11.0 and above
Standard Features:
heart rate monitor
Blood Pressure Monitor
Blood oxygen meter
Calorie counter
Sleep monitoring
Step/step counter
Receive notifications
body temperature
Respiratory Rate
Alarm/Reminder
Media Control
Notifications
Stopwatch
Many available themes
Water resistant:
IP68
Screen diameter:
1.69 inch
Screen resolution:
240x280
Battery Life:
220 mAh
Bluetooth:
Bluetooth v5.0
Strap width:
22mm
Dimensions:
45.1*36.5*11.5mm
Package contains:
1x Haylou GST Smartwatch
1x Charging Cable
1x Manual
ProductID:
265310610
Payment methods
Budgetkiller heel lage prijs tegenover alle functies en de kwaliteit van de horloge.
Heel handige en betaalbare watch. Kreeg hem eerst niet binnen wegens een leveringsprobleem (was op afhaalpunt geleverd 10 km van mijn adres) maar er werd een nieuw pakketje gestuurd na veel klagen. De horloge voldoet zeker aan mijn wens. Grote dank voor professionele afhandeling!!
Het product was er snel en volledig