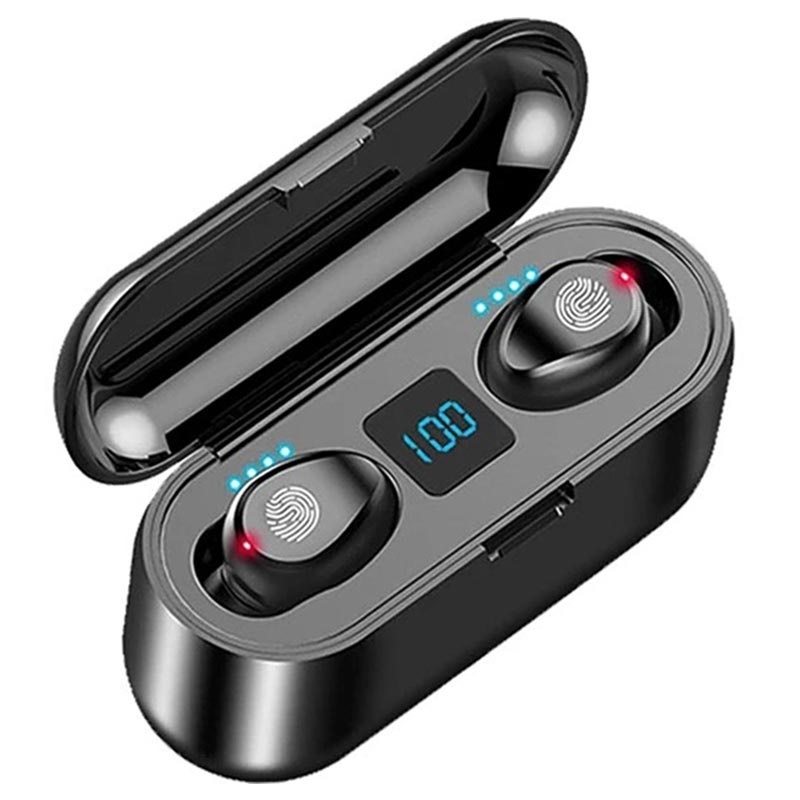 F9 TWS Wireless Smart Touch Control Earpieces Bluetooth 5.0 Ear Wireless Buds Earphones Earbuds 2000mAh Powerbank
€27,95
€69,95
F9 TWS Wireless Smart Touch Control Earpieces Bluetooth 5.0 Ear Wireless Buds Earphones Earbuds 2000mAh Powerbank
Processed and shipped within 24 hours

Estimated delivery time: 1-2 weeks

The estimated delivery time includes the delivery time of 24 hours and also depends on the payment confirmation and the selected shipping service. Delivery times may vary, especially during busy periods, there may be delays in courier services.

ATTENTION: Due to the corona crisis, it may happen that your order is on the road for longer than estimated. More information

For orders with a longer delivery time of 1-2 weeks, there is always the possibility that the ordered product still has to be imported into the country of destination. The customer is always personally responsible for the import of delivered goods and liable for any costs of import duties, import costs and VAT when buying products from Stuff Enough that are indicated with a higher delivery time of 1-2 weeks on the product page.

Always 3 years

carry-in factory warranty

30 days cancellation right
Pay afterwards with AfterPay

Buy 2 for €25,16 each and save 10%
Buy 5 for €24,60 each and save 12%
Buy 10 for €23,76 each and save 15%
Information
Wireless earphones have a big plus; never again bothered by those annoying cables!
Our F9 H&A TWS wireless earphones with Bluetooth 5.0 and True Touch Control have the perfect shape for every ear, they have been designed with a keen eye for ergonomics. They are durable in build quality and offer an extremely high-quality listening experience for all your favorite music.
You also enjoy the latest features such as that these earphones automatically connect via Bluetooth to your device when the earphones are turned on. The ears are also IPX7 Waterproof approved.
The wireless earphones are universally compatible with all your Bluetooth devices; iPhones, Android smartphones, tablets, laptops, computers, MP4 players, ... In short, all devices with a Bluetooth chip will work with our earphones.
With minimal sound loss, maximum sound output, deep bass and active noise reduction , they provide a superior sound , with deep bass and clear tones. They are also ideal for calling, the built-in UHD (Ultra High Definition) microphone ensures an optimal calling experience.
With the 2000mAh charging box you can not only charge the earphones, but you can also use them as a power bank for your smartphone . The box contains a handy battery status indicator to see how much of the battery is left.
True Touch Control
High fidelity sound and deep bass
Active noise reduction
Latest Bluetooth 5.0 version
Long-lasting battery and ultra-low consumption
Handy battery status indicator
Built-in UHD microphone, ideal for calling
Automatically connect to your device via Bluetooth
Charging case can be used as 2000mAh power bank
IPX7 Waterproof certified
Specifications
 
Brand:
H & A
Color:
Black, silver
Bluetooth version:
V5.0 + EDR / BLE, ultra low consumption
Bluetooth mode:
A2DP 1.3 / HFP1 6 / HSP1.2 / AVRCP1.6 / D11.3
Bluetooth frequency:
2.4 GHz
Bluetooth range:
10 meters without obstacles
Frequency:
20Hz-20KHz
Driver diameter:
15mm
Battery Capacity:
Earbuds: 100mAh 3.7V
Charging station: 2000mAh 3.7V
Talk / play time
Single earbud: 6 to 8 hours
Both earplugs: 4 to 5 hours
Standby: 150 hours
Charging time: 1 to 1.5 hours
In-ear
Yes
Smart touch
Yes
Noise reduction:
Yes
Audio streaming:
Bluetooth 5.0
Package Contains:
1x Pair of F9 H&A TWS wireless earphones
1x 2000mAh Charging station
1x User manual
ProductID:
210949365
Payment methods
kwam vandaag toe net op tijd voor kerst :)
julian Jumbo
07 December 2021
very nice audio quality and long battery life
ik ben er enorm tevreden van hele betrouwbare oortjes
Top quality and delivery within the week
Safraanberg F
21 June 2021
dikke pluim voor david om mijn probleem met de bluetooth zo snel op te lossen bravo
Lynsey Detraux
14 June 2021
ze werken geweldig eerlijk echt beter dan verwacht
als het goed is mag het ook is gezegd worden..
voor zijn geld kan ik niet echt klagen ja alleen wel dat ik er wel 4 weken op heb moeten wachten maar goed... ze werken goed met mooi geluid en gaan lang mee dat was alles dat ik verwacht had dus voor mij 4/5
Werkt langs geen kanten. Het laden duurt nu al weken (zolang steken ze idd al in en heb er 15min van genoten)en de indicatie dat ze aan het laden zijn valt gewoon weg. Heb het bedrijf gekontakteerd via mail en whats ap maar krijg geen antwoord op mijn vraag achter een retouradres.
Geld kwijt vrees ik dan. Btw made in china,had ik het geweten je mocht je brol houden. Heb me er van Bose aangeschaft,die doen het uitstekend en maar 20euro duurder. NEPBEDRIJF!!!!
they work like magic and sound very very good! thanx
Elien Verhaesen
16 January 2021
ruim 3 weken moeten wachten en dan nog met beschadigde verpakking... bij stuffenough vinden ze het dan normaal om 10% terugbetaling te geven omgerekend een schamele € 4! had liever nieuw doosje gehad hoor!!
lang wachten maar wel in orde
14 January 2021
lang wachten maar wel in orde
fouzia mummi
06 January 2021
earbuds van goede kwaliteit en je betaalt niet teveel ervoor
emanuel devos
01 January 2021
na 2 en halve week had ik ze pas ontvangen
ik heb ze in actieprijs gekocht voor € 40
De levering duurt langer dan verwacht en we waren heel bezorgd of ze nog wel gingen toekomen maar eens ontvangen is onze twijfel over dit bedrijf meteen weggevallen want de oortelefoon doet het geweldig en we hebben er al veel luisterplezier aan beleefd!
Michael De Jong
22 December 2020
nog net op tijd binnen gekregen voor kerst, bedankt! mijn zoontje zal tevreden zijn
tot nu toe zijn we er heel tevreden over
Ousama H
08 December 2020
écoutez attentivement @stuff enough vous devriez vraiment vous concentrer davantage sur la communication avec vos clients.
C'est dommage car les produits sont bons
ik heb keurig op tijd ontvangen
service is idd niet wat het moet zijn ik moest teveel moeite doen om stuffenough vast te krijgen ivm een update met mijn zending om dan fijn te horen te krijgen dat mijn pakketje al zo een week op postkantoor was toegekomen en als ik dit niet binnen de week ging afhalen dat het pakje retour ging gestuurd worden.. Het was fijn om hiervan op de hoogte te zijn geweest voor dat ik wel 3 mails moest sturen. Eind goed al goed ik heb de oortjes vandaag afgehaald en deze zijn wel echt super qua klank en de kwaliteit is echt wel zijn geld en het wachten waard
boris daenens
24 November 2020
tijdige levering van de oortelefoon
Michael Scott
23 November 2020
absolute aanrader de beste oortjes die ik al gehad heb en nog goedkoop ook
ideale oortjes om mee te gaan sporten
Vanderperren
19 November 2020
Makkelijk met BleuTooth aan IPhone 7 te verbinden. Werkt niet op oude IPad ivm oude BleuTooth versie. Snel opgeladen. Geluid is prima .Prijs en kwaliteit verhouding is heel goed hier
ik heb een heel goede ervaring met deze oordopjes
top bedrijf
17 November 2020
Top bedrijf al veel besteld en wordt altijd netjes op tijd geleverd en altijd goed geholpen
johannes VDM
14 November 2020
aan de oortjes zelf is niks aan te merken maar moet wel vermelden dat de service van stuffenough wat aan de wensen overlaat
Wij hebben in totaal 3(!!!) weken gewacht op dit produkt en niet netjes op de hoogte gehouden. Oké coronacrisis en vertraagde levering valt wel te begrijpen eenderzijds. Maar ze doen er wel 2 en soms 3 dagen over om een simpele mail te beantwoorden.
Moest de service beter zijn had ik direct 5 sterren gegeven
Ik ben erg tevreden met de oordopjes alles was precies zoals ik verwacht had
sterke batterij
13 November 2020
Batterij gaat lang mee zijn heel makkelijk in gebruik en verbinden heel snel met je iphone
Chiara Fertinel
13 November 2020
vorige week gekregen heb er al al een hele week plezier van
geweldige oortjes voor redelijke prijs ik zou deze zeker aanraden aan iedereen
Aurelien
06 November 2020
Qualité supérieure à un prix raisonnable. vivement recommandé!
Glenn Snoeck
06 November 2020
de oortjes zijn zeker geen prul maar ik had ze toch liever op tijd gekregen dan meer dan een week te laat.
kreeg 15% korting op volgende aankoop maar weet toch niet zeker of ik dat nog ga doen..
MARTENS Lydia
06 November 2020
eerlijke webshop alleen jammer van de levertijd
Annnonnniem
05 November 2020
Deze zitten super lekker het geluid is super zuiver
zeker niet teleurgesteld van deze oortjes!
Christien Plagmeijer
02 November 2020
superding vandaag binnen gekregen met bpost
geen spijt van :)
betrouwbaar
02 November 2020
julien dejong
29 October 2020
parfait! exactement comme je l'avais espéré mais livraison très lente
eddie parker
28 October 2020
hele goede kwaliteit van de oortjes en het doosje doet uitstekend dienst als powerbank als ik krap bij accu zit! :)
bon produit à un prix raisonnable.
Pour être honnête, je suis déçu de la livraison tardive. sinon je ne peux pas reprocher au vendeur est fiable

Je peux recommander la patience aux clients incertains, j'ai dû attendre 3 semaines pour les écouteurs moi-même...
sterk gebouwde oortjes en doosje ook heel makkelijk te gebruiken
noah stevens
19 October 2020
hele goede pasvorm van de oorstukjes zitten comfortabel en vallen niet uit
margie jordon
16 October 2020
ze werken fantastisch voor het kleine prijsje
ik heb vandaag meteen nog een extra paar bijbesteld
Kumar Shakan
16 October 2020
heel snel opladen en heldere klank voor muziek te beluisteren.
Shop stufenough is ook goed ze antwoorden snel en leggen goed uit. ik moest wel tot 3 weken wachten op de oortjes dat is mijn enigste minpunt
ik heb ze vandaag toegekregen en direct geprobeerd ze werken perfect en voelt van goede kwaliteit aan
Victor Eichmann
12 October 2020
Blijft goed zitten in de oren, ook bij sporten. Fijn in gebruik en goed geluid
coppens wim
08 October 2020
uiterst comfortabele oortjes en passen handig in men broekzak
jente wever
08 October 2020
ik kreeg de oortjes vandaag op tijd binnen en kan hier alleen maar goede dingen van zeggen ze werken heel gemakkelijk en het geluid is erg goed
erg goede kwaliteit voor laag prijs
3 weken levertijd, maar goed materiaal en voldoet aan de beschrijving.
ik heb er 4 weken op moeten wachten maar moet zeggen toch goed materiaal ontvangen
Aneta Kirejczuk
30 May 2020
Witam, dziwna sytuacja. Zakupiłam dwa opakowania tych słuchawek. Pieniądze zostały pobrane ale!nie dostałam żadnego emaila z potwierdzeniem.tez tak mieliście?czy w ogóle zostały dostarczone?pozdrawiam
Pedro Gonçalves
15 May 2020
Zit al 2 weken aan het wachten voor mij bestelling en is nog niet binnen gekomen
nog steeds niks ontvangen 5dagen geleden besteld
vandaag binnen gehad en ze zijn naar wens
Ik zou mijn bestelling op 24h krijgen , het is 3dg dat ik al langer aant wachten ben.....
Prachtige oortjes
10 November 2019