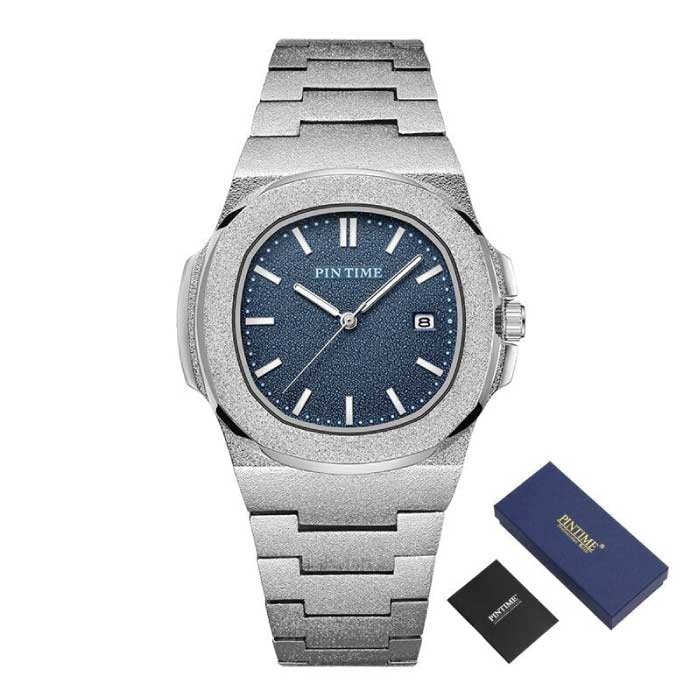 Frosted Luxury Watch for Men - Stainless Steel Quartz Movement with Storage Box Silver Blue
€37,95
€47,95
Frosted Luxury Watch for Men - Stainless Steel Quartz Movement with Storage Box Silver Blue
Processed and shipped within 24 hours
30 days

cancellation right

3 years

carry-in factory warranty

Estimated delivery time: 1-2 weeks

The estimated delivery time includes the delivery time of 24 hours and also depends on the payment confirmation and the selected shipping service. Delivery times may vary, especially during busy periods, there may be delays in courier services.

ATTENTION: Due to unexpected circumstances, it can always happen that your order is on its way longer than estimated. More information

For orders with a longer delivery time of 1-2 weeks, there is always the possibility that the ordered product still has to be imported into the country of destination. The customer is always personally responsible for the import of delivered goods and liable for any costs of import duties, import costs and VAT when buying products from Stuff Enough that are indicated with a higher delivery time of 1-2 weeks on the product page.

Pay securely with

Buy 2 for €34,16 each and save 10%
Buy 5 for €33,40 each and save 12%
Buy 10 for €32,26 each and save 15%
Information
This luxury watch from PINTIME is made of stainless steel and has a "Frosted" design. Every detail of the watch has been carefully worked out so that the design comes into its own.
The watch has a high-quality quartz dial and is fitted with scratch-resistant hardlex glass. The watch has a minimalistic but very stylish and modern design.
The watch has a water resistance of 3 ATM, which means that you don't have to worry about rain or washing your hands. The watch is very easy to use; you can adjust everything with the dial on the right side of the watch.
Scratch resistant hardlex glass
Frosted design
Specifications
Brand:
PINTIME
Model Number:
1560
Housing:
Stainless steel
Band:
Stainless steel
Dial diameter:
45mm
Casing thickness:
12mm
Strap length:
26 cm
Tire width:
28mm
Water resistance:
3 ATM / 3 Bar
Package contains:
1x Frosted Luxury Watch for Men
ProductID:
258023961
Payment methods
Reviews
No reviews found
Read or write a review