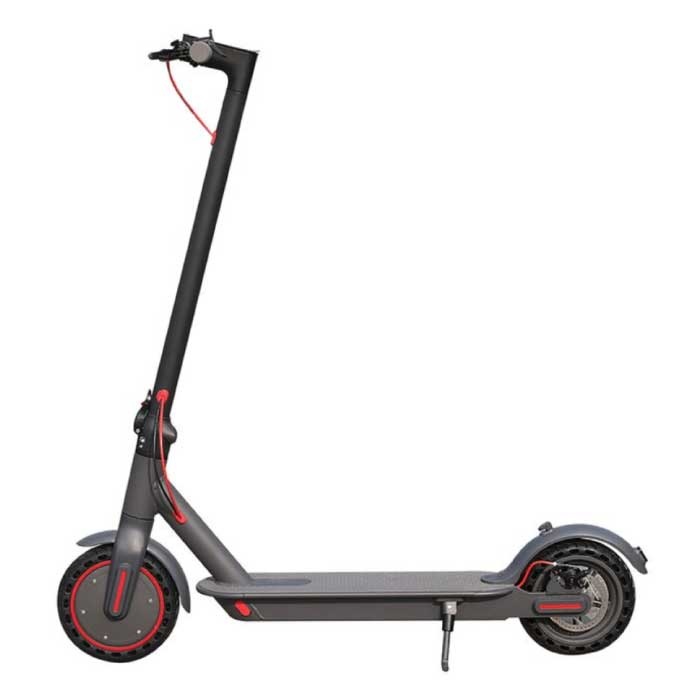 Foldable Electric Scooter - Off-Road Smart E Step Ultralight with App - 350W - 30 km/h - 8.5 inch Wheels - Black
€479,95
€699,95
Foldable Electric Scooter - Off-Road Smart E Step Ultralight with App - 350W - 30 km/h - 8.5 inch Wheels - Black
Processed and shipped within 24 hours
30 days

cancellation right

3 years

carry-in factory warranty

Estimated delivery time: 1-2 weeks

The estimated delivery time includes the delivery time of 24 hours and also depends on the payment confirmation and the selected shipping service. Delivery times may vary, especially during busy periods, there may be delays in courier services.

ATTENTION: Due to unexpected circumstances, it can always happen that your order is on its way longer than estimated. More information

For orders with a longer delivery time of 1-2 weeks, there is always the possibility that the ordered product still has to be imported into the country of destination. The customer is always personally responsible for the import of delivered goods and liable for any costs of import duties, import costs and VAT when buying products from Stuff Enough that are indicated with a higher delivery time of 1-2 weeks on the product page.

Pay securely with

Buy 2 for €470,35 each and save 2%
Buy 5 for €460,75 each and save 4%
Buy 10 for €451,15 each and save 6%
Information
The Aovopro scooter is made for long distances and high speeds, perfect for a few days of commuting without having to charge the scooter every day.
The new piece of technology is made sturdy with shock-absorbing tires and a combination of an electric brake and disc brake , making the scooter suitable for driving on all kinds of difficult terrains.
Incidentally, there is a bell on the steering wheel and a modern LED control panel with everything you need including speed and battery meter. You can connect the scooter with the Aovopro app on your phone and easily set everything up.
This scooter is powered by an extra large 10.5 Ah Lithium rechargeable battery . It takes about 4 to 5 hours to fully charge the battery, you can monitor its status on the control panel.
The tires don't use air, so you don't have to worry about punctures or flat tires. Thanks to the double 350W motor , the scooter can reach speeds of up to 30 km/h, and with the large battery you can go up to 35 km in one charge. With the electric scooter you also have access to adjustable cruise control , so you can set a speed yourself.
One of the main selling points of the scooter is its compact size and foldability . The scooter is folded in just two steps; unfasten the buckle at the front and fold the scooter.
The scooter weighs only 12.5 kg , so you can easily take it to work, get on a bus or train, to the office, etc. All our electric scooters are fully tested and declared safe.
Specifications
 
Brand:
Aovopro
Type:
Electric Smart Step/Scooter
Colour:
Black
Maximum speed:
30 km/h
Maximum distance:
35km
Storage Temperature:
-25°C to 50°C
Maximum load:
120kg
engine power:
350W
Battery:
10.5 Ah rechargeable lithium battery
Loading time:
3 to 4 hours
Brake system:
Electric brake
Disc brake
Control panel:
Yes, LED
Wheels:
8.5 inch off road tires
Certification:
CE, RoHS, FC
Folded dimensions:
107 * 54 * 43cm
Package includes:

1x Aovopro Electric Scooter

1x Charger

1x User manual
ProductID:
277678506
Payment methods
Reviews
No reviews found
Read or write a review