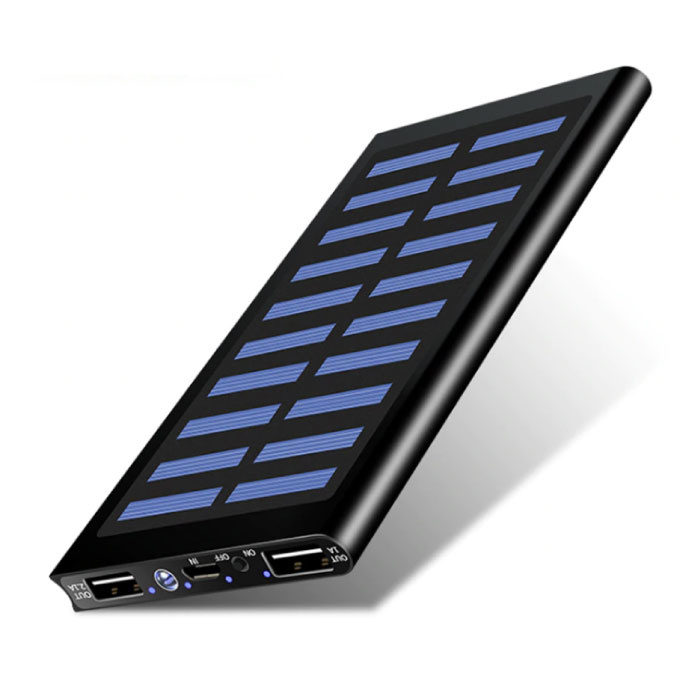 External 30,000mAh Solar Charger Powerbank Solar Panel Emergency Battery Battery Charger Black €43,95
External 30,000mAh Solar Charger Powerbank Solar Panel Emergency Battery Battery Charger Black
Processed and shipped for free within 24 hours

Estimated delivery time: 2-3 weeks

The estimated delivery time includes the delivery time of 24 hours and also depends on the payment confirmation and the selected shipping service. Delivery times may vary, especially during busy periods, there may be delays in courier services.

ATTENTION: Due to the corona crisis, it may happen that your order is on the road for longer than estimated. More information

Always 3 years

carry-in factory warranty

30 days cancellation right
Pay afterwards with AfterPay

Buy 2 for €39,56 each and save 10%
Buy 5 for €38,68 each and save 12%
Buy 10 for €37,36 each and save 15%
Information
A handy portable charger that can be charged by solar energy. Always a flat battery at the end of the day? Do you often go on an adventure, or do you simply not feel like hanging your smartphone on the wall every time? Here's the fix!

With this handy solar charger you can recharge anytime, anywhere without using an electricity source, all you need is sunlight. The power bank has up to 30,000mAh storage capacity with which you can fully charge most smartphones up to four times.
The solar charger has two USB inputs so you can charge two devices at the same time. In addition, the power bank has a built-in flashlight and is completely waterproof. Ideal for festivals and camping!
Devices are automatically detected and charged at the fastest possible speed. The battery of the power bank is equipped with a smart protection system for safe and fast charging.
Charge your smartphone up to 4 times thanks to the 30,000mAh capacity
Has 2 charging ports
Battery charge indication with LED lights
LED flashlight
Specifications
Type:
Solar charger / Power bank / Emergency battery
Color:
Black
Battery type:
Lithium polymer
Capacity:
30,000 mAh
Lifecycle:
~ 1000 charges
Entrance:
Micro USB 5V / 1A
Exit:
USB 5V / 1A
USB 5V / 2.1A
On off switch:
Yes
Battery status display:
Yes
Built-in flashlight:
Yes
Shockproof:
Yes
Splash proof:
Yes
Dustproof
Yes
Dimensions:
153 x 76 x 9 mm
Weight:
222 grams
Compatible with:
Most smartphones (iPhone, Samsung, Windows Phone, BlackBerry OS, HTC, Sony, ...)
Package contains:
1x Power bank 30,000mAh emergency battery
1x USB to Micro USB cable
Payment methods
Wil toch even vermelden dat de snelheid van levering voor verbetering vatbaar is maar dat het product uiteindelijk wel geleverd wordt. Ikzelf deed mijn bestelling op 15/6/2020 en is uiteindelijk vandaag (16/11/2020, dus 5 maand later) geleverd en in goede staat. De boodschap is : op geregelde tijdstippen eens een mailtje sturen en dan komt het uiteindelijk wel terecht. Vandaar dat ik mijn vorige score toch enigzins in de positieve zin wil aanpassen.
heb er lang op moeten wachten en zoals voorgaande reviews dacht ik ook dat ik opgelicht was. heb dan na 3 weken toch uiteindelijk nog ontvangen.
de powerbank lijkt wel top in orde, heb de zonnepanelen nog niet kunnen testen maar de capaciteit van de batterij lijkt zeker 30000mah en dat mag ook gezegd worden.
Ik geef 5 sterren maar niet voor de service van stuff enough maar wel voor het product zelf
(2 sterren gegeven, omdat bij 1 ster de review niet wordt geplaatst ...)
6 juni heb ik een order geplaatst. Product is 10 weken later nog niet geleverd.
Stuff Enough informeert niet proactief. Alleen bij navragen krijg ik continu de boodschap dat het nog een x-aantal weken duurt.
Verder geeft Stuff enough nog steeds aan dat de levertijd 2-4 weken is. Mijn huidige levertijd is nog steeds 2-4 weken, terwijl ik 10 weken geleden besteld heb.
Kortom, beloftes die niet nagekomen worden en misleiding.

Ik zou deze winkel dan ook niet aanraden!

Owja, als goedmakertje bieden ze 15% korting op de volgende aankoop.
Kortom Stuff enough komt haar klanten alleen tegemoet als ze nog een keer de kans krijgen het goed te doen en als je nogmaals zo gek bent om hier te bestellen.

Kortom, de service van deze webwinkel is zeer slecht in vergelijking met winkels als Coolblue en Bol.com
Geen aanrader dus!
Een nieuwe poging om een slechte beoordeling te posten. Reeds 2 pogingen ondernomen met maar 1 ster en deze worden dus niet publiek gemaakt op de site. Kwestie van een onjuist beeld te bezorgen aan de klant . Ikzelf wacht dus al 8 dagen op mijn powerbank en heb nog steeds niks ontvangen. Krijg nu zelfs ook geen antwoord meer vanuit de helpdesk. Van slechte service gesproken.
ik heb hem gisteren toegekregen en moet zeggen dit is een zeer goede koop geweest de powerbank laad ook sneller op in de zon dan ik verwacht had aanrader dus
Schamphelaere
18 June 2020
Levering was snel en alles was compleet. Goede uitleg
Paul Schipper
28 May 2020
Snelle en goede service complete web side