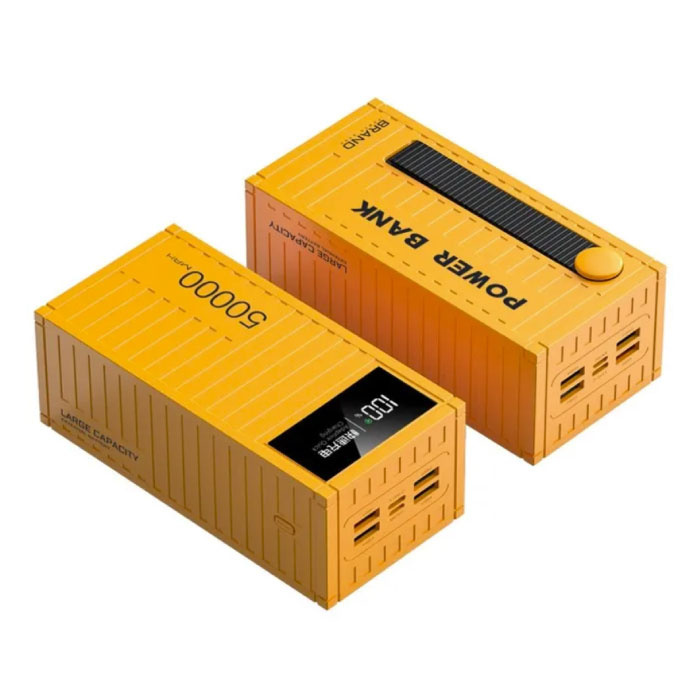 50,000mAh Power Bank with 4 Charging Ports - LED Display - 66W Battery Charger Yellow
€69,95
€149,95
50,000mAh Power Bank with 4 Charging Ports - LED Display - 66W Battery Charger Yellow
Processed and shipped within 24 hours
30 days

cancellation right

3 years

carry-in factory warranty

Estimated delivery time: 1-2 weeks

The estimated delivery time includes the delivery time of 24 hours and also depends on the payment confirmation and the selected shipping service. Delivery times may vary, especially during busy periods, there may be delays in courier services.

ATTENTION: Due to unexpected circumstances, it can always happen that your order is on its way longer than estimated. More information

For orders with a longer delivery time of 1-2 weeks, there is always the possibility that the ordered product still has to be imported into the country of destination. The customer is always personally responsible for the import of delivered goods and liable for any costs of import duties, import costs and VAT when buying products from Stuff Enough that are indicated with a higher delivery time of 1-2 weeks on the product page.

Pay securely with

Buy 2 for €68,55 each and save 2%
Buy 5 for €67,15 each and save 4%
Buy 10 for €65,75 each and save 6%
Information
With our 50,000mAh Power Bank with 5 Charging Ports and LED Display you always have the power within reach to charge all your devices. Whether you're on the go, traveling, or just at home, this powerful battery charger provides the ultimate portable energy solution.
Characteristics:
Five Charging Ports: This power bank is equipped with no fewer than four USB charging ports and one bidirectional USB-C port, giving you the ability to charge up to five devices simultaneously. No more queues to charge your phone, tablet, laptop, and other gadgets.

Huge Capacity: With an impressive capacity of 50,000mAh, this power bank provides more than enough power to charge your devices multiple times before the power bank itself needs to be recharged. It is the ideal companion for long journeys and outdoor adventures.

Bidirectional Charging Capabilities: This power bank is not only capable of charging devices, but can also be quickly charged itself. Thanks to the bi-directional USB-C port and micro USB port, you can fully recharge the power bank with ease and efficiency, so you can get back on the road quickly.

LED Display: The handy LED display on the power bank accurately indicates the remaining battery capacity, so you always know how much energy you have left. This helps you charge your devices at the right time and never run out of power.

Powerful Battery Charger: With an output of 66W, this power bank provides enough power to quickly charge even the most demanding devices. Whether you want to charge your smartphone, tablet or laptop, this power bank always supplies the necessary power.
With the 50,000mAh Power Bank you never have to worry about an empty battery again, wherever you are. Enjoy the flexibility to charge multiple devices simultaneously and always stay connected.
Specifications
 
Type:
Power bank/Emergency battery
Colour:
Yellow
Battery type:
Lithium ion
Capacity:
50,000mAh
Lifecycle:
2000 charges
Entrance:
1x Micro USB
1x USB-C (bidirectional)
Exit:
4x USB
1x USB-C (bidirectional)
Battery status display:
Yes, LED
Package includes:
1x 50,000mAh Powerbank with 5 Charging Ports

With one full battery of this power bank you can fully charge your smartphone up to ten times .
ProductID:
290165228
Payment methods
Vanakkermans
03 November 2023
Dirk Segers
24 October 2023
Degelijke oplader en ook goede stevige en compacte behuizing. Is wel wat zwaar maar begrijpelijk. In het algemeen zeer tevreden minus de 2 weken levertijd