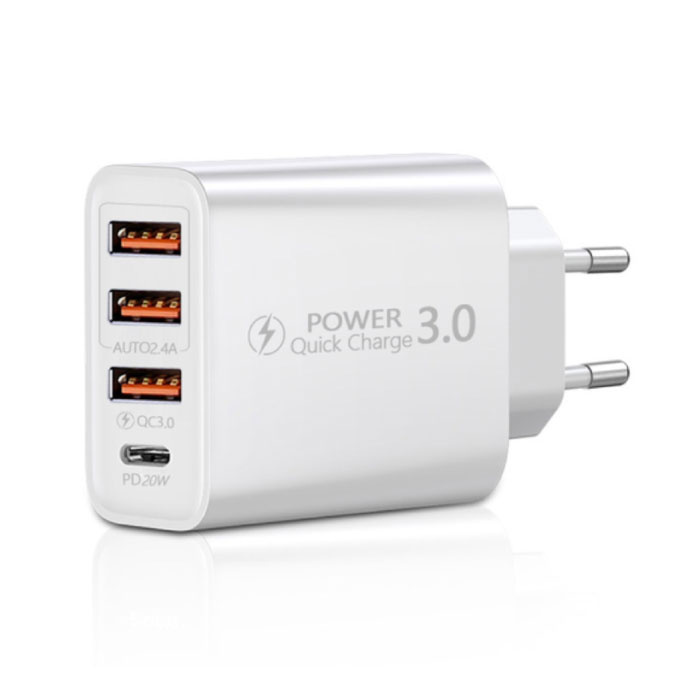 4-Port Plug Charger 60W - PD / Quick Charge 3.0 / USB Charger Wall Charger Plug Charger Adapter White
€11,95
€19,95
4-Port Plug Charger 60W - PD / Quick Charge 3.0 / USB Charger Wall Charger Plug Charger Adapter White
Processed and shipped within 24 hours
30 days

cancellation right

3 years

carry-in factory warranty

Estimated delivery time: 1-2 weeks

The estimated delivery time includes the delivery time of 24 hours and also depends on the payment confirmation and the selected shipping service. Delivery times may vary, especially during busy periods, there may be delays in courier services.

ATTENTION: Due to unexpected circumstances, it can always happen that your order is on its way longer than estimated. More information

For orders with a longer delivery time of 1-2 weeks, there is always the possibility that the ordered product still has to be imported into the country of destination. The customer is always personally responsible for the import of delivered goods and liable for any costs of import duties, import costs and VAT when buying products from Stuff Enough that are indicated with a higher delivery time of 1-2 weeks on the product page.

Pay securely with

Buy 2 for €10,76 each and save 10%
Buy 5 for €9,56 each and save 20%
Buy 10 for €8,37 each and save 30%
Information
Discover the Maerknon Charger, your ultimate charging partner for all your electronic devices. Designed to meet all your charging needs, this versatile charger offers a range of powerful features that power your devices efficiently and quickly.
Superfast Charging Options
The Maerknon Charger is equipped with two USB 2.4A ports, allowing you to effortlessly charge two devices at the same time without sacrificing speed. In addition, this charger has an advanced QC3.0 USB port. QC stands for "Quick Charge" and is a technology that makes it possible to charge your compatible devices faster than ever before. But that's not all; This port also supports QC1.0, QC2.0, Apple 2.4A, Samsung AFC and Huawei FCP, Xiaomi FCP, giving you the flexibility to charge different devices with different charging protocols.
Fast and Efficient via USB-C
For those looking for the fastest charging speed, the Maerknon Charger has a powerful 20W USB-C PD port. With Power Delivery (PD) you are assured of lightning-fast charging for all your PD-compatible devices, such as smartphones, tablets and laptops.
Ample Loading Capacity
With a total charging capacity of 60 Watts, the Maerknon Charger provides enough power to charge multiple devices simultaneously, without sacrificing speed or performance.
Global Compatibility
This charger is compatible with a wide voltage range of 100-240V, allowing you to use it worldwide without worrying about compatibility with different sockets.
Sustainable Design
The Maerknon Charger is made from high-quality materials such as ABS and PC, resulting in a durable and stylish design that will last a long time. This makes it the ideal companion for both home use and on the go.
Choose the Maerknon Charger and experience the speed, versatility and reliability you need to charge all your devices. Charge faster, charge smarter with Maerknon!
Two USB 2.4A ports: Charge two devices simultaneously with a smooth charging speed of 2.4 amps per port.
QC3.0 USB Port: Leverage Quick Charge 3.0 technology for ultra-fast charging speeds for compatible devices. Also backwards compatible with QC1.0 and QC2.0.
PD 20W USB-C Port: Experience super-fast charging for Power Delivery compatible devices such as smartphones, tablets and laptops.
Brand:
Maerkno
Colour:
White
Technology:
Qualcomm Quick Charge 3.0
Power Delivery
Input:
AC 100-240V 50/60Hz 0.5A
Output:
1x USB-C Power Delivery
2x USB 2.4A
1x USB Quick Charge 3.0
Total output power:
60W
Package includes:

1x 4-Port Plug Charger 60W
ProductID:
288810884
Payment methods
Reviews
No reviews found
Read or write a review