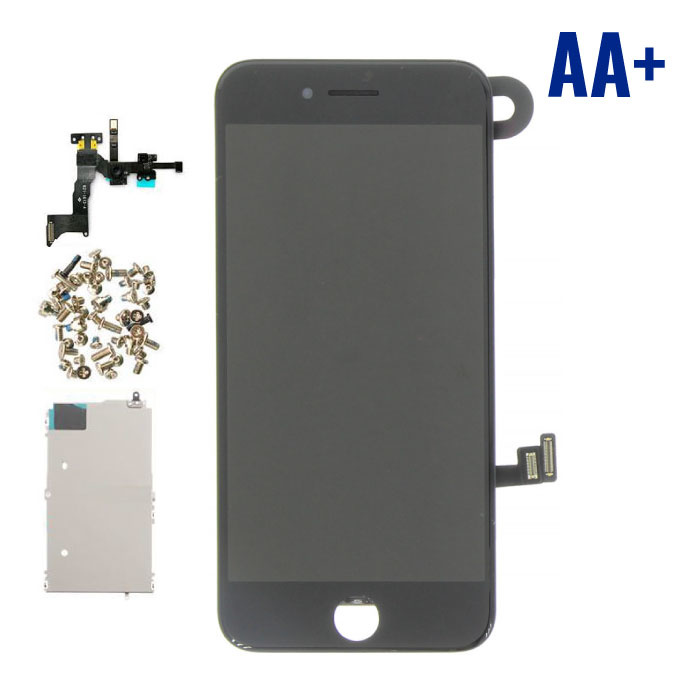 iPhone 8 Voorgemonteerd Scherm (Touchscreen + LCD + Onderdelen) AA+ Kwaliteit - Zwart
€89,95
€94,95
iPhone 8 Voorgemonteerd Scherm (Touchscreen + LCD + Onderdelen) AA+ Kwaliteit - Zwart
Bestel 2 voor €88,15 per stuk en bespaar 2%
Bestel 5 voor €86,35 per stuk en bespaar 4%
Bestel 10 voor €80,96 per stuk en bespaar 10%
Gratis 24u verzending

in België & Nederland

Nu besteld, binnen de 5-8 dagen in huis!

Altijd

14 dagen

bedenktijd

2 jaar

carry-in garantie

Achteraf betalen

met AfterPay
Informatie
iPhone 8 scherm kopen?
Ongelukje gehad? Geen nood, u kan gewoon bij ons een nieuw iPhone scherm kopen en uw iPhone zelf repareren. Het defecte iPhone scherm vervangen is redelijk eenvoudig en zal ongeveer 30-45 minuten duren met behulp van ons bijhorend gereedschap voor iPhone reparatie.

Voorgemonteerde schermen zijn speciaal gemaakt zodat het voor u makkelijk is om het scherm te vervangen. Het complete onderdeel bestaat uit de touchscreen digitizer, middenframe, LCD back plate, front camera/proximity sensor kabel, home button flex kabel, frontcamera en oorspeaker.


Gegarandeerd kwaliteit
Wij garanderen steeds de beste kwaliteit aan de laagste prijs, en testen elk iPhone LCD scherm grondig een voor een op alle mogelijke defecten vooraleer deze worden verzonden naar onze klanten. Zo koopt u bij ons een 100% werkend iPhone 8 scherm met zekerheid.
?  Compleet voorgemonteerd met alle onderdelen

?

Geleverd in beschermend doosje

?

Gegarandeerd AA+ kwaliteit

?

Geleverd met schermfolie

?

Compleet getest voor verzending
Specificaties
Geschikt voor:
Apple iPhone 8
Afmetingen pakket:
138 * 195 * 24 mm
Brutogewicht pakket:
175g
Type/kleur:
iPhone 8 scherm Zwart
Merk:
Stuff Certified

iPhone 8 schermvervangen doet u in het geval van;
iPhone scherm kapot, gebroken of gebarsten
iPhone Zwart scherm, functioneert niet meer
iPhone waterschade of andere problemen

Een gereedschapskit voor de vervanging van het iPhone scherm, iPhone batterij en iPhone home button is apart bij ons verkrijgbaar voor slechts €3,50.Deze bevat een kruisschroevendraaier, pentalobe schroevendraaier, een platte schroevendraaier, een zuignap, twee plastic picks en twee plastic openingshendels.
Echter indien u dit wenst, bieden wij ook een set professionele iPhone reparatie tools aan tegen een zeer schappelijke prijs. Met dit gereedschap kan u uw iPhone nog sneller en praktisch moeiteloos herstellen.
Overigens kan u bij ons terecht voor veel meer zelf te vervangen smartphone onderdelen zoals; iPhone batterij, iPhone home button, iPhone frontglas, Samsung scherm en Samsung batterij.

Een iPhone 8 scherm kopen en zelf repareren is zo gebeurd!
Reviews
Geen reviews gevonden
Help ons en andere klanten door het schrijven van een review